1. Only Spanish speaking African country
Equatorial Guinea is the only African country where Spanish is the official language, the other two official languages are French and Portuguese. Nearly 70% of the population can speak Spanish in Equatorial Guinea. In addition to these 3 official languages there are 5 recognized regional languages. Equatorial Guinea was first Portuguese territory until 1778 when Spain exchanged it with Portugal giving them some areas in Brazil.
Equatorial Guinea got independence from Spain in 1968.
2. Crazy Dictator Francisco Nguema
When Equatorial Guinea became independent Spain handed the power to the Fang politician Francisco Macias Nguema. This dictator was the president of Equatorial Guinea between 1968-1979.
Here's a list of the things he did or what happened in the country during his regime
1. Abolished political parties
2. Banned the word "intellectual"
3. Banned fishing and destroyed ships (tried to stop people fleeing the country)
4. Banned Western medicines, they were un-African according to him
5. Caused a brain-drain, killed 2/3 of the legislature and even his own family members
6. Ordered entire families and villages to be executed
7. Titled himself the "Unique Miracle" and "Grand Master of Education, Science and Culture"
8. Changed the country's national motto (1978): "There is no other God than Marcias Nguema"
9. Soldiers in Santa Claus costumes murdered Nguema's opponents at the football stadium in Malabo
10. All Hispanic names were Africanized
3. God of Equatorial Guinea
Teodoro Mbasogo is still (2015) the president of Equatorial Guinea, he got the power after a coup and executing the former president, his uncle Francisco Nguema.
Teodoro Mbasogo was nominated the "God of Equatorial Guinea" in 2003 and in the official announcement he was said to be given:
"The right to kill without giving anyone an account and without going to hell."
The nephew of the first president is nearly as crazy as his uncle. The country is very corrupt and unequal.
4. Richest African country
Equatorial Guinea is the richest country of Africa if you measure the GDP per capita. These are the statistics:
Population:
760,000
GDP per capita:
20,500 (World Bank 2013)
The wealth is distributed very unevenly, 5% of the population has 80% of the wealth. The majority lives in poverty while president Mbasogo gathers the whole wealth for himself and his inner circle.
Equatorial Guinea became rich after vast oil and gas deposits were found after 1996. This is the reason why its GDP per capita is even higher than in Argentina, Russia, Uruguay, Brazil or Mexico which is quite surprising.
5. Symbolism in the Flag
Green:
represents the lush nature and the jungle
White:
represents peace
Red:
the fight for freedom
Blue triangle
: the sea that separates the different parts of the country
Tree:
silk cotton tree, aka "God tree". The first treaty between Spain and the local African ruler was signed underneath this tree
Stars:
the six stars represent the 5 islands and the mainland
Banner:
Unidad, Paz, Justicia means Unity, Peace and Justice in English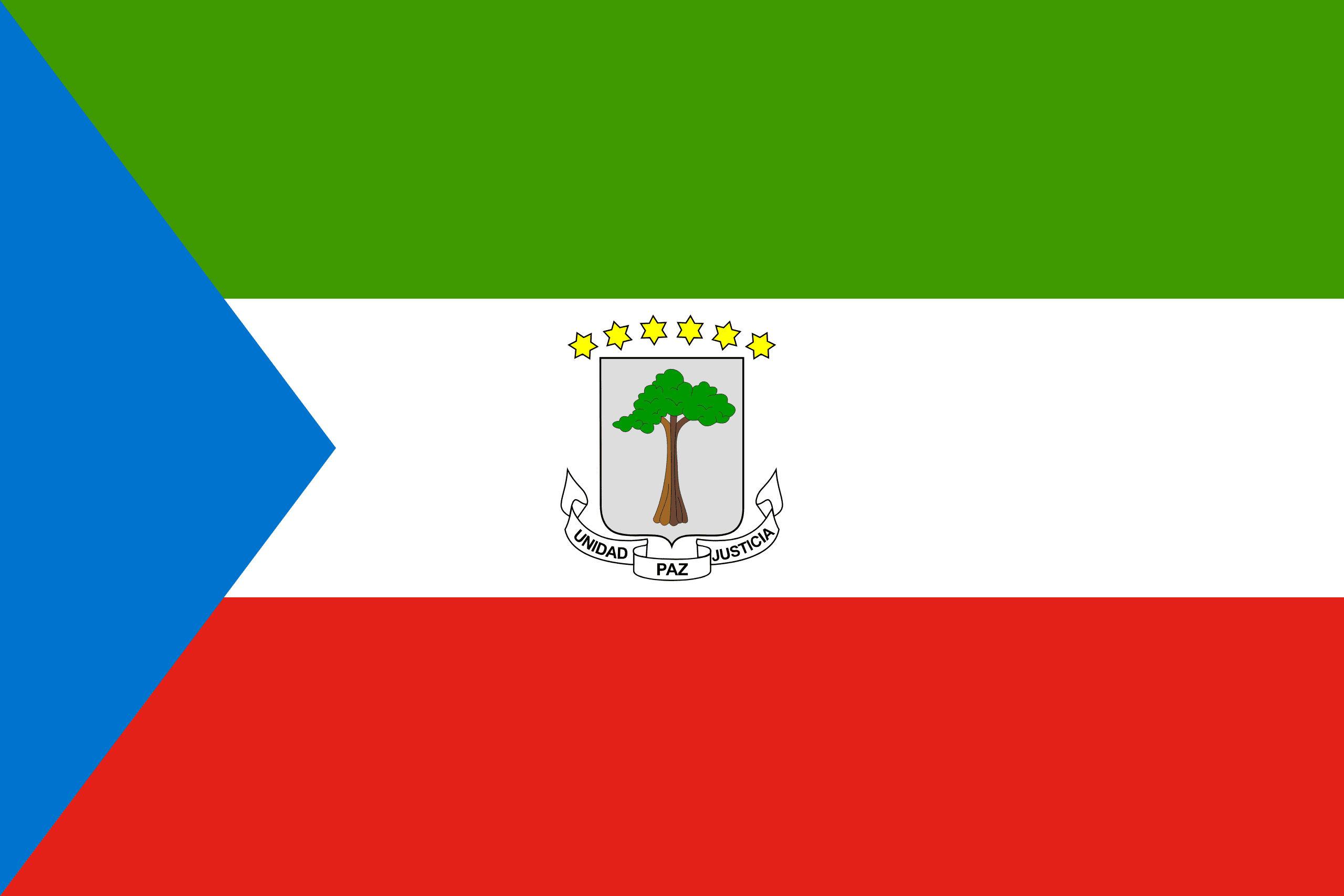 Lake Biao
Timeline

2000 years ago the Fang people moved to the area populated by Pygmies
1200s Bubi people move to the uninhabited island of Bioko
1471 Portuguese Fernando Pó arrive at the coast of Mbini islands
1778 Portugal exchanges Equatorial Guinea into areas in Brazil with Spain
1800s The British conquer Bioko island
1850s Spain re-establishes their power in Bioko and connects it with Mbini into a colony called Spanish Guinea
1959 The freedom movement MONALIGE starts fighting for freedom
1964 The country gets autonomy
1968 Independence
1979 Coup by Teodoro Mbasogo who executed the president, his uncle Macias Nguema
1990s The country shifted nominally into multiparty democracy
2003 Teodoro Mbasogo is declared the God of Equatorial Guinea


Sources:
http://en.wikipedia.org/wiki/Equatorial_Guinea
Maailman liput maat ja historia - Kimmo Kiljunen